Birla Trimaya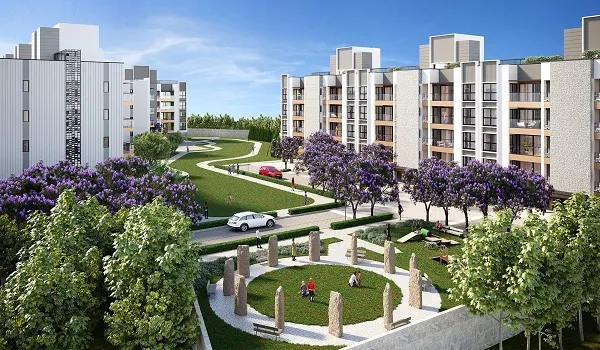 Birla Trimaya mixed-use township by Birla Estates, smartly located on Shettigere, off BK Halli Road, Devanahalli, North Bangalore. It consists of 1 to 4 BHK apartment. Spread across 50 acres, comprising 1680 units. Each tower has 25 floors. The total number of flats in Phase 1 is 550. The total number of units in this project is 2600 in multiple-phase. The project was launched on September 5, 2023. The price starts at Rs 50 lakhs to Rs. 1.2 Cr.
About Devanahalli:
Devanahalli, a burgeoning suburb in the northern part of Bangalore, has emerged as a promising real estate investment destination in recent years. Known for its rich history, excellent connectivity, and a range of modern amenities, it has captured the attention of both homebuyers and investors alike. Devanahalli boasts a historical legacy that dates back to the 15th century. The birthplace of Tipu Sultan, the renowned ruler of Mysore, is famous. This historical significance lends a unique charm to the area, with remnants of its past still visible in ancient temples, forts, and architectural landmarks.
Devanahalli's real estate market has been on a consistent upswing. The region offers a variety of residential options, including apartments, villas, and plotted developments. Investors are drawn to Devanahalli due to its proximity to Kempegowda International Airport. This makes Devanahlli an ideal choice for those seeking a blend of suburban living and urban convenience.
Devanahalli has expanded significantly in the last several years due to its convenient position and proximity to the airport. It is now a crowded, vibrant location with many homes and shops. People like to invest and purchase homes. As a result of improvements to the buildings and roads, it is now a fantastic option for those who value convenience and a lovely setting. Those who want to reside in a good area with easy access to numerous things now prefer Devanahalli.
Devanahalli's strategic location plays a pivotal role in its popularity. It is well-connected to major parts of Bangalore through the National Highway 44, making commuting to the city center hassle-free. The presence of the Kempegowda International Airport ensures that residents have easy access to domestic and international travel. The upcoming Devanahalli Business Park and Aerospace Park have enhanced the area's connectivity and economic prospects.
They will also have the sleek Namma Metro train and the Peripheral Ring Road to simplify transportation. Not only that, but they are also building several clinics, shopping centers, schools, and entertainment venues. Moreover, Devanahalli is also well-connected to neighboring areas like Yelahanka, Hebbal, and Whitefield, prominent IT and industrial hubs in Bangalore. This connectivity makes it an attractive choice for IT professionals and business executives looking for a tranquil residential environment with easy workplace access.
Advantages of Investing in Devanahalli
Investing in Devanhalli, a suburb located in the northern part of Bangalore, offers several advantages that make it an attractive destination for real estate investment:
Proximity to Kempegowda International Airport: Devanhalli's proximity to the Kempegowda International Airport makes it a strategic location for business and leisure travelers. This convenience has increased demand for residential and commercial properties in the area.
Proximity to Kempegowda International Airport: Devanhalli's proximity to the Kempegowda International Airport makes it a strategic location for business and leisure travelers. This convenience has increased demand for residential and commercial properties in the area.
Connectivity: The area enjoys excellent connectivity via the National Highway 44 and the upcoming Namma Metro line, making it easy for residents to commute to other parts of Bangalore. The proposed Peripheral Ring Road will further enhance connectivity.
Educational Institutions: Devanhalli houses prestigious institutions like the Canadian International School and the BMS Institute of Technology. This makes it a desirable location for families seeking quality education options.
Amenities and Infrastructure: Devanhalli is witnessing significant infrastructure development, including shopping centers, healthcare facilities, and recreational spaces. This ensures that residents have access to essential amenities and a high-quality lifestyle.
Future Appreciation: With ongoing development and infrastructure projects in the pipeline, property values in Devanhalli are expected to appreciate over time, making it a promising location for long-term real estate investments.
The real estate landscape in Devanhalli includes many apartments catering to various budgets and preferences. Birla Trimaya is one of the best places to invest if you want 1, 2, and 3 BHK apartments and Duplex apartments near Bangalore Airport.
Bangalore, often called Bengaluru, is a big city in India. It's famous for its technology and pleasant weather. Many IT companies are here, making it the "Silicon Valley" of India. People from different places live and work here. You can find tasty South Indian food like dosa and idli. Parks like Cubbon Park are nice for relaxing. Traffic can be a problem sometimes. There are good educational institutions too. The people are friendly and celebrate festivals together. It is a bustling city with modern life and traditional charm, attracting many for its opportunities and diverse culture.
Bangalore boasts numerous noteworthy districts marked by remarkable progress and modern infrastructure, making them attractive real estate prospects. Devanahalli has become a thriving locale, housing impressive corporate and residential properties. Birla Estates introduced their latest project, "Birla Trimaya," further enhancing the real estate landscape of Devanahalli. This venture reflects the city's dynamic growth and ongoing commitment to innovation and development.
Devanahalli - The Prominent Location
Devanahalli is a captivating town located on the outskirts of Bangalore, Karnataka, India. Renowned for its historical and contemporary significance, this town has grown remarkably. It is most famous as the birthplace of Tipu Sultan, a significant figure in Indian history. Devanahalli also houses the Kempegowda International Airport, making it a vital transportation hub. The town's landscape is adorned with ancient temples, reflecting its rich cultural heritage. In recent years, Devanahalli has witnessed a surge in real estate development due to its strategic location and connectivity. Establishing business parks, residential complexes, and educational institutions have transformed it into a bustling urban center. The Devanahalli Fort is a testament to its historical past, drawing history enthusiasts and tourists alike. With its blend of tradition and modernity, Devanahalli continues to be a place of intrigue and growth.
Devanahalli - IT and Corporate Hub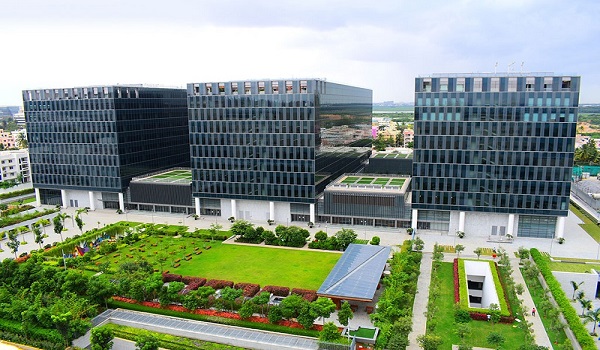 Devanahalli, a town near Bangalore in India, has become more than a historical place. It's now a hub for IT and corporate activities. The town is famous for the Kempegowda International Airport, connecting it to the world. Big companies have set up offices here, bringing jobs and opportunities. This growth has led to new buildings, like business parks and offices, changing the town's look. People from different places come to work and live here. Devanahalli's history is still seen in its old temples and the Devanahalli Fort. This mix of modern work and ancient charm makes Devanahalli an exciting and evolving place for work and exploration.
Mega Social Infrastructure
Devanahalli has not only emerged as an IT and corporate hub but has also seen remarkable growth in terms of social facilities. Over the years, this town near Bangalore, India, has witnessed a transformation in its amenities and services, catering to the needs of its expanding population. With the rise in corporate activities, the town has witnessed the development of modern infrastructure. Educational institutions, healthcare centers, shopping complexes, and recreational facilities have sprung up to support the growing community. This has not only improved the quality of life for the residents but has also attracted more people to settle here.
Devanahalli's strategic location near the international airport has also contributed to its growth. The improved connectivity has not only facilitated business interactions but has also boosted tourism and trade. The town's cultural heritage remains intact through its historical landmarks, such as the Devanahalli Fort and ancient temples. This blend of tradition and modernity creates a unique ambiance, making it an attractive place to live and work. Devanahalli's journey from a historical site to a bustling urban center with advanced social facilities showcases its adaptability and potential for growth, making it an exemplar of harmonious development.
Excellent Connectivity and Metro Link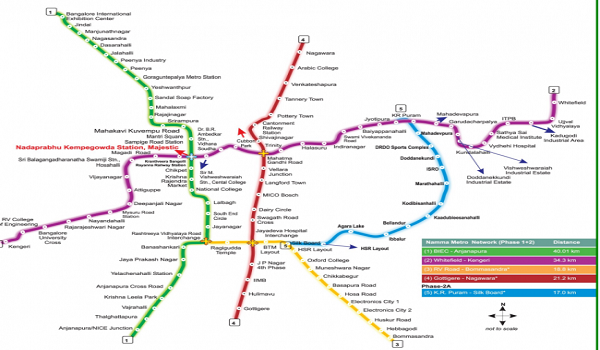 Devanahalli has become even more connected with the world because of its excellent transportation links. It's near the Kempegowda International Airport and has plans for a metro link. This metro will make it easier for people to travel to and from Devanahalli. It's like a train that goes underground and above the ground. This will help commuters reach different parts of Bangalore quickly and comfortably. The metro is a modern way to move around, and having it in Devanahalli will make life more convenient for everyone. With this new addition, Devanahalli is growing in terms of work and living spaces and making travel smoother for its residents and visitors.
In addition to its strong transportation network, Devanahalli is poised to experience a boost in connectivity through an upcoming metro link. This metro project is designed to provide a convenient mode of transportation for the people living in and around Devanahalli. The metro is like a special train that travels on tracks above the ground and sometimes below it. It has comfortable seats and air conditioning and doesn't get stuck in traffic. The metro link in Devanahalli will make traveling within the town easier and connect it to other important parts of Bangalore city.
Splendid Residential Properties in Devanahalli
The residential properties in Devanahalli are truly remarkable and offer a splendid living experience. These homes are designed to make you feel comfortable and happy. You can find different houses like apartments, villas, and houses with beautiful gardens. These properties have everything you need for a cozy life - comfortable bedrooms, kitchens, bathrooms, and spacious living areas.
The best part is that many residential areas have great facilities like parks, playgrounds, gyms, and swimming pools. The buildings are modern and well-built, designed to be strong and safe. Plus, the surroundings are usually peaceful and calm, away from the city's noise.
What's more exciting is that these homes are often close to important places like schools, markets, and hospitals. This makes life much easier because you don't have to travel far for everyday needs. Whether you're a family, a working professional, or someone looking to settle down, Devanahalli's residential properties offer many options to suit your needs and preferences. Living in these splendid homes will provide comfort and a sense of belonging to a growing and thriving community.
Birla Estates Real Estate
Birla Estates Private Limited is a part of Century Textiles and Industries Limited, a big company. Century Textiles is like the leader of the B. K. Birla Group of Companies. This group does many things, like making textiles, paper, chemicals, etc.
Birla Estates plans to use different areas of land that the group owns. They want to work together with other companies to build things in big cities. One of their projects is about apartments in Bangalore. Birla Estates aims to make people think differently about real estate in India. They want to make it special and valuable for everyone involved. They want to make sure everyone feels good about what they're doing.
Their main idea is to give an experience connected to their history. They want to do this by always being clear, dedicated, and doing good things. The things they build will show how much they care about quality and good design.
Birla Estates is based on trust and being open. These are very important values for them. These values are a big part of why they've been successful for a long time. Everything they do is connected to these values.
In the future, Birla Estates wants to make a big change in real estate in India. They want to create amazing things and keep the trust and transparency they're known for. With their history and values, they're on a good path to making a real difference.
Discover Devanahalli, your ultimate destination for your dream home and the perfect choice for your new address. Here, you'll experience a delightful lifestyle like never before, crafting cherished moments with your loved ones that will last a lifetime. This thriving locality offers a blend of modern conveniences and natural charm. With its well-planned infrastructure, proximity to essential facilities, and serene surroundings, Devanahalli ensures a comfortable and enriching living experience for you and your family.
Imagine waking up to the gentle morning breeze, enjoying leisurely walks in beautifully landscaped parks, and relishing the convenience of having everything you need within reach. Devanahalli's vibrant community and welcoming atmosphere create a warm and inviting neighborhood for people of all ages. Whether seeking a peaceful retreat or an active social life, the area caters to your diverse preferences. Its strategic location connects you to major hubs while providing an oasis of tranquility away from the city's hustle and bustle.
Incorporating modern amenities, green spaces, and contemporary architecture, Devanahalli embraces the essence of comfortable living. It's not just a place to reside; it's a haven where you can shape beautiful memories, nurture relationships, and enjoy every moment to the fullest.