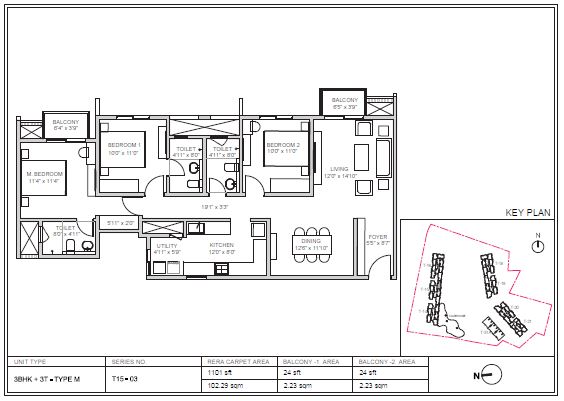 3 BHK 1101 Sq Ft Floor Plan
A property's floor plan is a detailed architectural diagram that provides a top-down view of the building's layout. It includes information about the arrangement and dimensions of rooms, walls, doors, windows, and other structural elements. Floor plans are essential for understanding the spatial layout of a property, aiding in design, construction, and real estate transactions. Birla Estates developed the Birla Trimaya floor plan. It comprises beautifully planned floor sizes in apartments considering the carpet and super-built area.
Spread on 50 acres of land; several buildings will have 1, 2, and 3-bedroom spacious apartments in Birla Trimaya. The additional premium costs will accompany the increase in floor levels. Residences that offer views of parks, clubhouses, playgrounds, gardens, and similar amenities are categorized as premium accommodations.
This floor plan showcases the preferences and presents a glimpse of the excellent quality of life it promises to offer.
Types of Floor Plan:
1 BHK Floor Plan of Birla Trimaya
1 BHK floor plan of Birla Trimaya will include a welcoming foyer, a spacious master bedroom, a well- equipped bathroom, a functional kitchen with a utility area, and a cozy balcony. This thoughtful arrangement of spaces in the 1 BHK floor plan aims to provide a balanced and harmonious living environment. The size of this apartment is 650 sq. ft.
2 BHK Floor Plan of Birla Trimaya
2 BHK floor plan of Birla Trimaya will comprise a foyer, two bedrooms, two bathrooms, one kitchen with an attached utility, and a balcony. These residences will be an ideal choice for nuclear families with one or two children, as a slightly larger space is needed to accommodate the presence of kids. The 2 BHK size is 1100 sq. ft.
3 BHK Floor Plan of Birla Trimaya
3 BHK floor plan of Birla Trimaya will include a foyer, three bedrooms, three washrooms, a kitchen with a utility, and a balcony. The 3 BHK size is 1350-1550 sq. ft. These three-bedroom apartments are an excellent fit for larger families, especially when there are elderly members present. The spacious layout of these three-bedroom homes provides ample room and privacy for each individual while fostering a sense of connection.
At The Birla Trimaya, every apartment features concealed electrical wiring for the utmost safety, utilizing top-quality electrical cables. For your convenience, abundant electrical plug points have been thoughtfully placed in living rooms and bedrooms.
In each residential tower, elevators have been installed to accommodate residents and goods transportation. The flooring will consist of high-quality vitrified or granite tiles. The Birla Trimaya is committed to using top-notch materials to create the finest living environment and ambiance for your home.
The Birla Trimaya Floor Plan exemplifies the opulent lifestyle the project will provide all its residents, whether in smaller or larger configurations. Residents can relish every aspect of their envisioned home, enjoying a tranquil and positively charged living experience.
Moreover, alterations to the floor plan will not be permitted before registration. However, Birla Estates assures that the most optimal and adaptable spacing will be provided to fulfill the diverse needs of families and individuals.
Birla Estates is a renowned real estate developer across India, having redefined living standards through iconic projects and innovative developments. This legacy persists with The Birla Trimaya, where opulence harmonizes with serenity, delivering an unparalleled living experience to residents in Bangalore's immaculate surroundings.
Frequently Asked Questions
1.
What are the available types of floor plans in Birla Trimaya apartments?
1 BHK, 2 BHK, 3 BHK, and spacious duplex apartments floor plans will be available in this project.
2.
What will be the floor rise charges?
The builder will determine floor rise charges after the project is launched.
3.
What features can be expected in a standard 2 BHK configuration?
A typical 2 BHK layout will encompass a foyer, kitchen, living area, and two bedrooms, each equipped with an attached bathroom.
4.
Is it possible to modify the flooring?
Birla Estates projects do not permit changes to the initial plans. Modifications can be considered after the registration process is completed.
5.
Will a model flat be accessible based on these plans?
Yes, the model flat will be accessible after the project's launch. As of now, The Birla Trimaya is an upcoming project.
Birla Estates- The Reputed Developer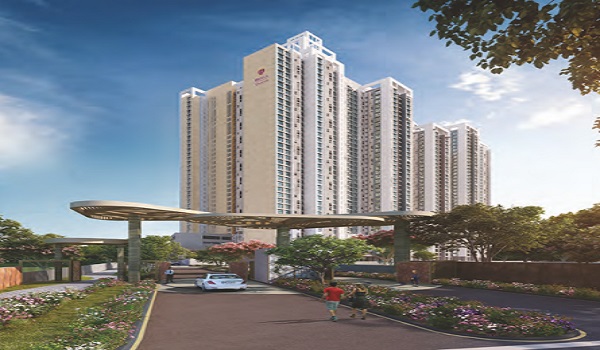 Birla Estates Private Limited belongs completely to Century Textiles and Industries Limited. The company plans to develop many pieces of land owned by the group and work with others in important cities. They want to change how people think about real estate in India. They want to make a well-known and amazing brand that keeps the group's history alive by always being clear, dedicated and making things of high quality and great design. Focusing on transparency, quality, and innovation, they aim to provide a unique and valuable experience in the Indian real estate sector. Their projects reflect their dedication to excellence and customer satisfaction. They redefine urban living and set new standards for architectural brilliance. Through a harmonious synthesis of values and vision, Birla Estates continues to craft iconic landmarks in the real estate industry.